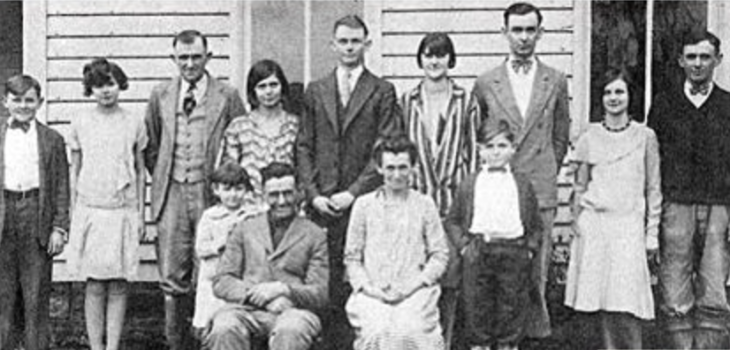 Our Heritage
The Barn at Heritage House is a lovingly restored, timber pegged, open beamed barn originally built in 1853 by our ancestor, Samuel McLary, who is the man depicted in the mural on the men's restroom wall. His daughter, and Cathy's grandmother, Mary, is depicted on the wall of the women's restroom. (Both murals were painted by Rebecca Pico of Athens, TN.)
This home was built by Samuel in 1880, before our grandmother Mary was born. Our grandmother grew up here, until she married William Mathis and later moved further down the creek to another part of the farm and raised her eleven children; most of whom remained in Brown County. Our father lived here as a teenager and Cathy lived here until she was six. The house was left to our grandmother when our great-grandfather died. It has since been passed on through the generations until it was sold out of the family.
Many of the black and white photographs throughout the home are copies of our family pictures, taken right here in Brown County, by Frank M. Hoenberger in the 20's – 40's. His entire collection was donated to Indiana University and is available for viewing at the Lilly Library on campus.
In 1998, we were able to purchase the home back and give it a full restoration. It truly was a labor of love to recapture the memories we had of living here in our youth. Each year the descendents of William (1873-1932) and Mary A. (McClary) (1880-1961) Mathis still gather amidst the splendor of October in Brown County to continue the tradition.
We are the 4th generation of our family to own the property on which the house and barn sit. We believe that family is one of the most important things in life and are glad that we can share our heritage with yours.